By: Marlorn Ace Edquila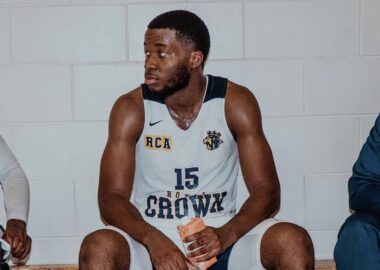 Courtesy: North Pole Hoops
The Royal Crown Academic School is a well-known prep school in Scarborough. Royal Crown is an excellent school for developing basketball players beyond high school. They currently have one of the best players in the country, Michael Evbagharu, who is a complete player that every college needs. Michael, who stands 6'4″, is the class' top rebounder at the guard position, averaging over seven rebounds per game. During the 2021-2022 season, Evbagharu was a big part of Royal Crown's undefeated performance in the Ontario Scholastic Basketball Association. Additionally, Evbagharu played for Team Canada U18 FIBA this summer. There is nothing you can hate about Michael's game since he is a multitasker who can handle anything you ask him.
Courtesy: Wes Brown Youtube
In the photo above, Michael played alongside great Canadian talents such as Elijah Fisher(middle) a recent player that currently plays at Texas Tech. And to the right of him, is Vasean Allette, one of the best three-level scorers out of Toronto, who has committed to Old Dominion University. Michael Evbagharu is no joke and can be proven to be a part of the hype about this team that won a bronze medal.
Michael has been playing the forward position since he was a kid, learning post moves, rebounding, and everything else a forward needs to succeed. During high school, he moved into the guard position and excelled at both, his opponents are unable to keep up with him despite being taller than him because he interprets both and plays with so much versatility. A unique aspect of Evbaharu's playstyle is his ability to rebound, score, and defend one of the best players on the opposing team. He excels at shooting the mid-range and can take on any big man and use his strong force to post a score.
Bigger than basketball, Michael Evbagharu has been recognized by Drake and Lebron James for being such a hard worker, averaging a 95 in school, and was gifted by the two celebrities $100,000. Michael dedicates all his hard work because of how hard his mother works and strives to be able to take care of his family in the future. Michael Evbagharu needs more attention, he has what it takes to play at the next level.